At Timberlands Dental Care, we offer traditional braces as well as Invisalign braces in Red Deer for those looking to straighten their teeth, correct their bites and enhance their smiles. All services are provided by our general dentists.
---

Orthodontics & Dentofacial Orthopedics in Red Deer
Dental problems, such as overcrowding and bite imbalances can develop over time and create problems for your smile. Crooked teeth are more difficult to properly brush and floss which can increase the risks of cavities and gum disease. In addition, crooked teeth can place pressure on nearby teeth as teeth grow into each other, causing a misaligned smile.
Our general dentists provide orthodontic treatment.
Timberlands Dental Care in Red Deer provides orthodontic solutions for you and your loved ones. If dental problems are less complex and if the patient's mouth is still developing, we may recommend orthopedics as a first step in your childs orthodontic care.
How It Works
Orthopedics uses a number of oral devices, such as removable space maintainers and removable retainers, to shift your teeth and bite into alignment. Because these oral devices are not bonded to your teeth, orthopedics provides a minimally invasive way to shift your teeth into place. In fact, if orthopedics is started early enough, there's a chance that braces may not be needed.
If orthopedics isn't enough to correct dental issues, we can use braces to correct dental problems. Dental braces are bonded to the patient's teeth which give us more accuracy to shift crooked teeth into their desired position. Orthodontics treatment is more involved and requires the patient to come in monthly for adjustments. Depending on you or your child's case, orthodontics treatment can last for several years.
All services are provided by our general dentists.
---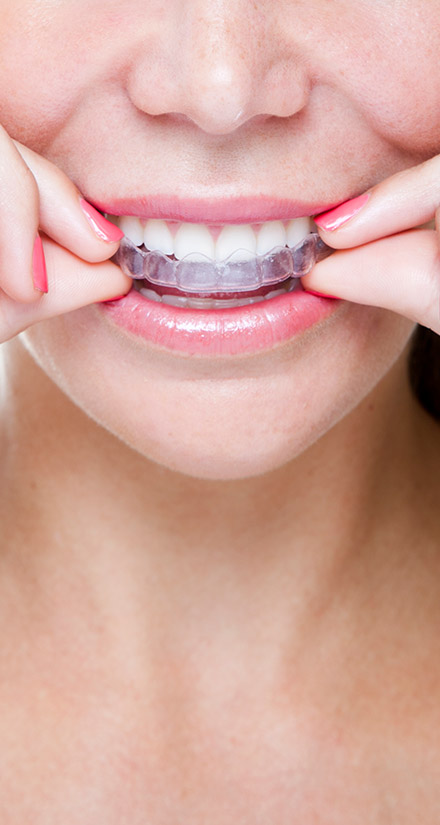 Invisalign (Invisible Braces) in Red Deer
Invisalign® invisible braces use a system of clear plastic aligners that work to shift your teeth into place. Each of the aligners is made of clear plastic so are extremely difficult to see when worn. Because each aligner is custom-made to your teeth's measurements, they place the correct amount of pressure on your teeth to correct your smile. This is achieved using technology, such as digital impressions and X-rays to create the right shape for the aligners.
With Invisalign®, you are able to continue smiling, laughing, and eating and know that others won't be able to see them. In addition, since the aligners aren't bonded to your teeth, they can be removed at any time. As a result, you will be able to brush, floss, and eat as you normally would.
Invisalign® aligners are ideal for less complex dental and bite problems. Treatment time varies from patient to patient and can last anywhere from 3 months to 2 years. During your treatment, you are required to wear the aligners for at least 21 hours a day to ensure you are following your treatment plan.
To learn more about orthodontic treatments or Invisalign, contact your general dentists at Timberlands Dental Care in Red Deer today.