At Timberlands Dental Care, our Red Deer family dentist offers porcelain veneers as a cosmetic dental solution for your smile.
---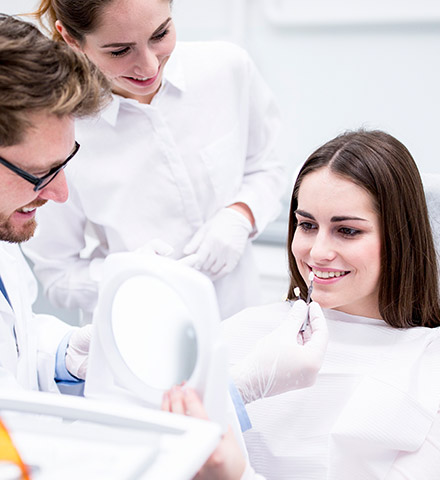 Porcelain veneers can correct discoloration, gaps, or crooked teeth. They are comprised of thin porcelain shells that are attached to your front teeth.
Dental veneers can correct a wide variety of minor cosmetic dental issues, such as:
Removing discoloration from your teeth
Eliminating gaps between teeth
Covering up chips
Enhancing the appearance of unattractive teeth and smiles
Repairing worn down enamel
---
Although porcelain veneers are commonly used to fix imperfections, they are also an option to repair worn-down enamel. Enamel is the hard outer layer of your teeth. Once it becomes worn down, it can't grow back.
Just like dental crowns, veneers are made of porcelain which means that the shells are strong and natural looking. The material strengthens your teeth while also resisting stains which help your smile to stay whiter for longer. Each of the shells is custom-made according to your teeth so they blend in with your surrounding teeth.
What is the process to determine if I should have porcelain veneers?
During your consultation, Dr. Phil Henriksen, Red Deer family dentist, will examine your teeth and go over your goals to determine if veneers are right for you. If you're a good candidate, some of your existing teeth's enamel will have to be taken off to place the porcelain shells. This is done to ensure the shells provide the right fit and appearance for your smile. Digital impressions are taken to create your custom-made porcelain shells.
To inquire about porcelain veneers, call us to book an appointment.
« Go Back